Theorie trifft auf Praxis: KOMSA-Gastvortrag an der TU Chemnitz
Fri, 12 Jan 2018 09:00:15 +0100
In ihrem Vortrag unter dem Titel "Agile Produktentwicklung in der Praxis - Komplexe Softwareprojekte und Produktentwicklung mittels Scrum" erklärten sie am 11. und am 18. Januar 2018 den Studierenden, wie man in der Praxis komplexe Softwareprojekte mittels agiler Vorgehensweisen zum Erfolg bringen kann.
Bereits seit einigen Jahren ist KOMSA aktiv im Chemnitzer IT-Bündnis für Fachkräfte. Dieses versteht sich als Zusammenschluss regionaler Unternehmen in Kooperation mit der Technischen Universität Chemnitz und der Chemnitzer Wirtschaftsförderungs- und Entwicklungsgesellschaft. Ziel ist ein intensiver Wissensaustausch zwischen Wissenschaft und Wirtschaft und damit verbunden auch die Sicherung von qualifizierten Nachwuchsspezialisten für die regionale IT-Branche.
---
Other current blog posts of the organization
KOMSA Kommunikation Sachsen AG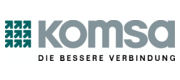 KOMSA ist einer der führenden Dienstleister der Informations- und Kommunikationstechnologiebranche (IKT) in Europa. Wir sind Spezialist in den Kernbereichen Distribution, Integrierte Dienstleistungen und Reparaturservice und dabei Partner aller namhaften Hersteller und Netzbetreiber der Branche. Unseren Handelspartnern bieten wir Produkte und Lösungen aus einer Hand, unseren Industriepartnern einen channelspezifischen Absatz ihrer Ware und die Übernahme von damit verbundenen Dienstleistungen. Beiden garantieren wir effizienten Support in bester Qualität zu besten Kosten. Als KOMSA-Gruppe mit unseren Tochtergesellschaften bedienen wir mehr als 10.000 Reseller, davon über 4.500 Fachhandelspartner und Systemhäuser.