KOMSA bei der Woche der offenen Unternehmen 2019
Tue, 12 Mar 2019 16:37:27 +0100
Die "Woche der offenen Unternehmen Mittelsachsen" gibt Schülerinnen und Schülern der 7. Klasse in der Woche vom 11. bis 16. März 2019 die Möglichkeit der umfassenden Berufsorientierung. Die teilnehmenden Unternehmen, Betriebe und Einrichtungen öffnen ihre Türen, um den Interessenten einen praxisnahen Einblick in ihren Arbeitsalltag zu gewähren und ihr Angebot an Ausbildungsoptionen und Arbeitsfeldern vorzustellen.
KOMSA nutzte diese Veranstaltungswoche, um potentielle Mitarbeiter von Morgen auf sich aufmerksam zu machen. Im Zeitraum vom 11. bis 13. März öffnete KOMSA die Türen für Schüler, welche sich für eine Ausbildung bei KOMSA interessieren und sich vorher auf der Website der mittelsächsischen Wirtschaft angemeldet hatten.
Wir haben uns gefreut über 50 junge Menschen durch unsere Räumlichkeiten führen zu dürfen und ihnen einen ersten Einblick in die aufregende Welt der Telekommunikation zu geben.
---
Other current blog posts of the organization
KOMSA Kommunikation Sachsen AG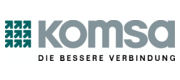 KOMSA ist einer der führenden Dienstleister der Informations- und Kommunikationstechnologiebranche (IKT) in Europa. Wir sind Spezialist in den Kernbereichen Distribution, Integrierte Dienstleistungen und Reparaturservice und dabei Partner aller namhaften Hersteller und Netzbetreiber der Branche. Unseren Handelspartnern bieten wir Produkte und Lösungen aus einer Hand, unseren Industriepartnern einen channelspezifischen Absatz ihrer Ware und die Übernahme von damit verbundenen Dienstleistungen. Beiden garantieren wir effizienten Support in bester Qualität zu besten Kosten. Als KOMSA-Gruppe mit unseren Tochtergesellschaften bedienen wir mehr als 10.000 Reseller, davon über 4.500 Fachhandelspartner und Systemhäuser.